On Sept 29th 2003 hurricane Juan struck the atlantic provinces of Canada. At the time I was living in PEI and telecommuting to Montreal for sysadmin work at an e-commerce company. By the time the storm struck Charlottetown it had been downgraded to a tropical storm but still packed a serious punch. I spent a couple hours out exploring and taking pictures having never witnessed such an event before. By the time I got back to my apartment at 2am the power was out so I went to bed.
When I awoke in the morning the power was still out, not an ideal situation for a telecommuter. Of course, not 10 minutes after getting up I got a call complaining about problems with the website. No power = no high speed internet so I fired up the laptop and connected to a dialup account.
This worked for about an hour until my crappy Tecra 8200 battery started to give out. At this point I had diagnosed the problem but another hour or two was needed to get the site fully operational again. At this point I knew I needed to find some power. I remembered that I had an old 250 watt 12V DC to AC inverter. Instead of working in the car I opted to take the battery in the house.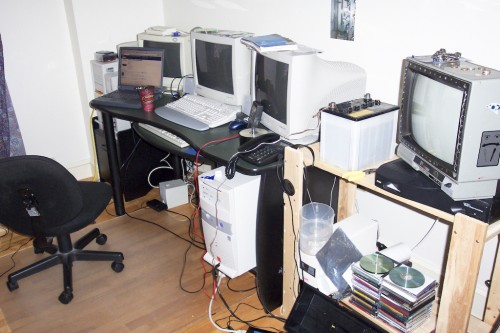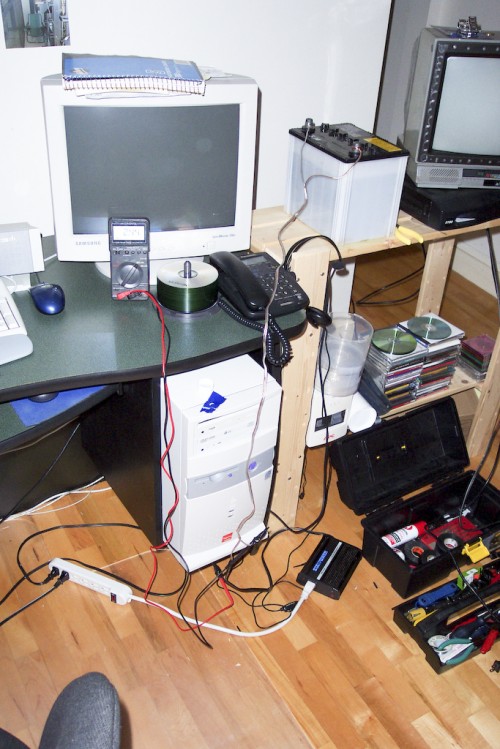 At this point I had my laptop charging off my Subaru's battery. I began to wonder if my high speed provider had a generator at the head end. I plugged my cable modem in and presto, high speed. I started to get cocky and even plugged in my old 13 inch color TV and satellite receiver! It all worked perfectly but after 10 minutes of TV I opted to just run the laptop and cable modem to have more run time.
To gauge my run time I put my multimeter on the battery to keep an eye on the voltage. Every 5-6 hours I would have to take the battery out to the car and go for a 30-40 minute drive to charge it up. It was totally inefficient and ridiculous but it worked.